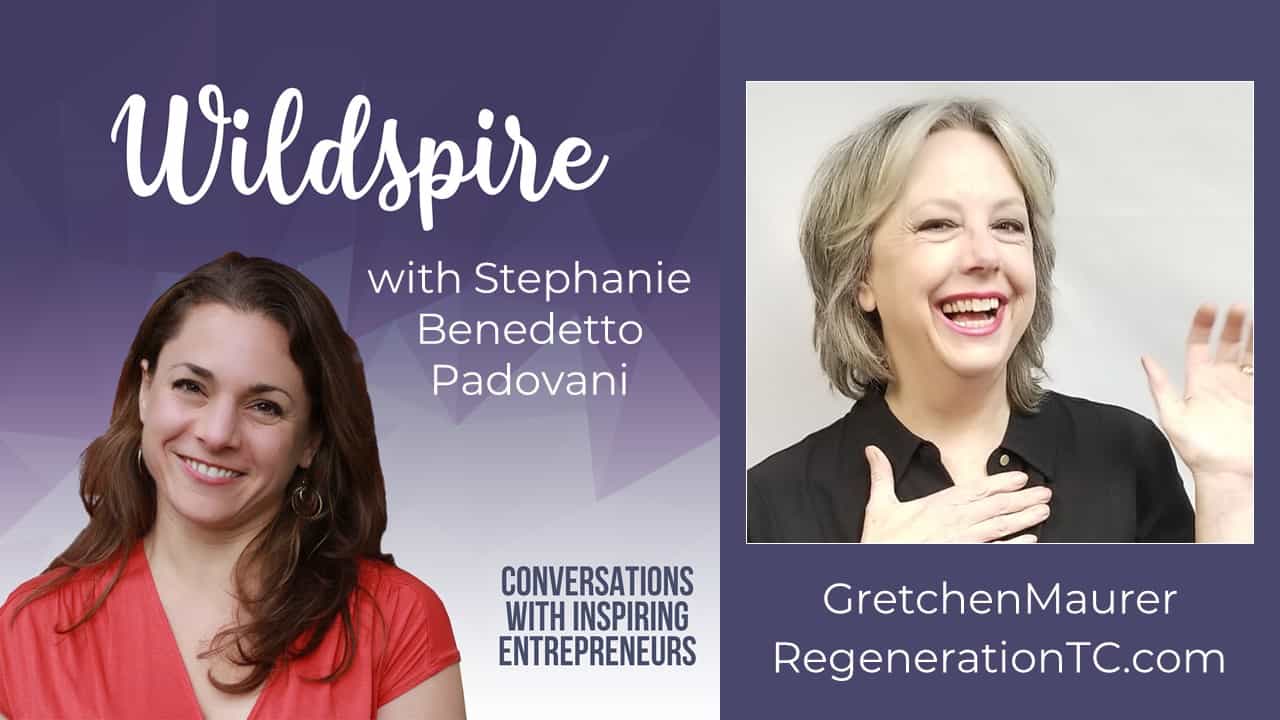 Gretchen Maurer is a transformation artist. Whether she's working transformation magic with hairstyles, as an educator in the wedding industry, or as a coach helping troubled youth or those with drug addiction, she brings creative solutions to challenges.
Gretchen tells her story of bitterness and burnout, quitting and shame, helping her daughter through the challenges of ADD, and leaving their lives behind by selling everything to become missionaries. 
It's a fascinating tale of following your inner guidance and navigating an uncertain path by facilitating transformation within and without.
Here's some of what we explore:
The journey of

accepting yourself

as an artist

Giving yourself

permission to quit

when it's time for something new

Finding the

"human underneath the hair"

and what it means for your career

Art as a vehicle of

transformation

How Gretchen

pivoted from the pinnacle of her career

as a hairstylist, author and educator to 10 yrs working in recovery counseling

How to deal with the fact that

you can't help everyone

Why

confidence and clarity

are overrated

Overcoming

the challenges of re-entering an industry

after taking time off
*CONTENT WARNING: brief references to sexual abuse
Listen and download the podcast here:
Watch the video of our full chat, listen to the podcast, or grab some of my takeaways below.
The Journey of a Transformation Artist
"You've got everything you've been through, everything you are. There are golden nuggets in every bit as long as you're willing to flash the light on the path and take steps." – Gretchen Maurer
Embracing yourself as an artist takes time. Buried in her mother's threats of, "If you keep getting C's, you're going to end up a hairdresser!" was the seed of a passionate dream of being a creative artist and helping people. It's often challenging to see yourself as an artist when your family or environment disapproves, but the journey is its own reward.
Give yourself permission to quit or be done with what no longer serves you. This opens up the space for new opportunities. For Gretchen, following her heart despite the fear ushered in career success and a book contract.
Remember the human being underneath what you do. Even if you provide a product, it's never the thing that makes the difference. As Gretchen says, people don't care about hair. The transformational gift is in how they feel being with you. Relate to the human and take the focus off you and what you do. Every act of service is an opportunity to be a transformation artist.
Your life path unfolds one step at a time, and there is no how-to manual for life. Gretchen's daughter dealt with the challenges of aggressive impulsivity and being bullied in school. The "fringe kids" she brought into their middle-class family influenced them to become missionaries working on a rehab farm with ex-gang members, kids with eating disorders and dealing with drug addiction.
You can integrate your diverse background into a business with a unique niche and speciality. Gretchen returned to the hair styling industry after 15 years away. She's in the process of blending her mental health background and coaching experience to help her clients with more than just doing hair. Now she assists in a transformation at a new level of mental health, burnout and trauma. 
You can't help everyone, and that's okay. Everyone has a story and you can use it to reach those who will be touched by it.
Clarity and confidence are overrated. They come and go. Waiting for clarity to act blocks the flow. Clarity comes as you move forward; what you need appears when you need it, not before.
Gretchen's message:
Everything you need is within you. (Or a YouTube video or coach!)

Love and accept yourself.

Take the steps. There is no right or wrong.

Everyone has a story worth telling. Yours will transform lives.
There's not a single person who can't be redeemed and move forward. Gretchen learned to forgive the boy who abused her by walking in his shoes. Forgiveness is a gift for yourself. There are both light and dark sides to life that add color to the journey, and all are gifts if you're willing to shine a light on them..
"A path is for walking on. You're walking with a flashlight at night, and it only lights up so far ahead. You don't get the full picture because you'll learn on the journey." – Gretchen Maurer
Meet Gretchen Maurer, Hair Stylist, Artist, Coach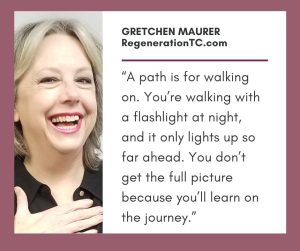 Gretchen Maurer is a former salon owner with 30+ years in the industry. She was a platform updo artist, a published freelance bridal stylist and contributing editor for a number of local and national magazines.
She is the author of two books: The Business of Bridal Beauty, written for the salon industry and The Morning of your Wedding, written for brides. 
Gretchen created the first wedding hair website on the internet in 1998, recognized by Brides magazine as the #1 beauty site in 2002. Weddinghair.com sold step by step "hair kits" to brides and stylists around the world until 2008.  
Currently, Gretchen runs the largest updo and hairstyle education Facebook group with close to 20K world wide members. She is creator of The Updo System Champion Course on www.Updosystem.com. 
She co-owns a mental health and coaching practice with her husband and is a certified coach with a focus on helping others find clarity. 
Connect with Gretchen 
Updo Champion Course: http://www.updosystem.com 
Coaching Website: https://www.regenerationtc.com 
Updo Hairstyle & Education group: https://www.facebook.com/groups/Updo.hairstyle.education 
Updo Hairstyle & Education page: https://www.facebook.com/updoandhairstyleeducation 
Wedding Morning Success group: https://www.facebook.com/weddingmorningsuccess/?ref=bookmarks 
Books on Amazon: https://www.amazon.com/-/e/B01M3XQ89B 
Youtube: https://www.youtube.com/channel/UCVk0uDOx9TDIN9GPA2yHEJA 
LinkedIn: https://www.linkedin.com/in/gretchen-maurer-97879437 
Instagram: https://www.instagram.com/gretchenmaurer 
Pinterest: https://www.pinterest.com/glmaurer
Twitter: https://twitter.com/gretchenlmaurer
---
Subscribe to the Wildspire podcast: https://www.theawakenedbusiness.com/wildspire-podcast