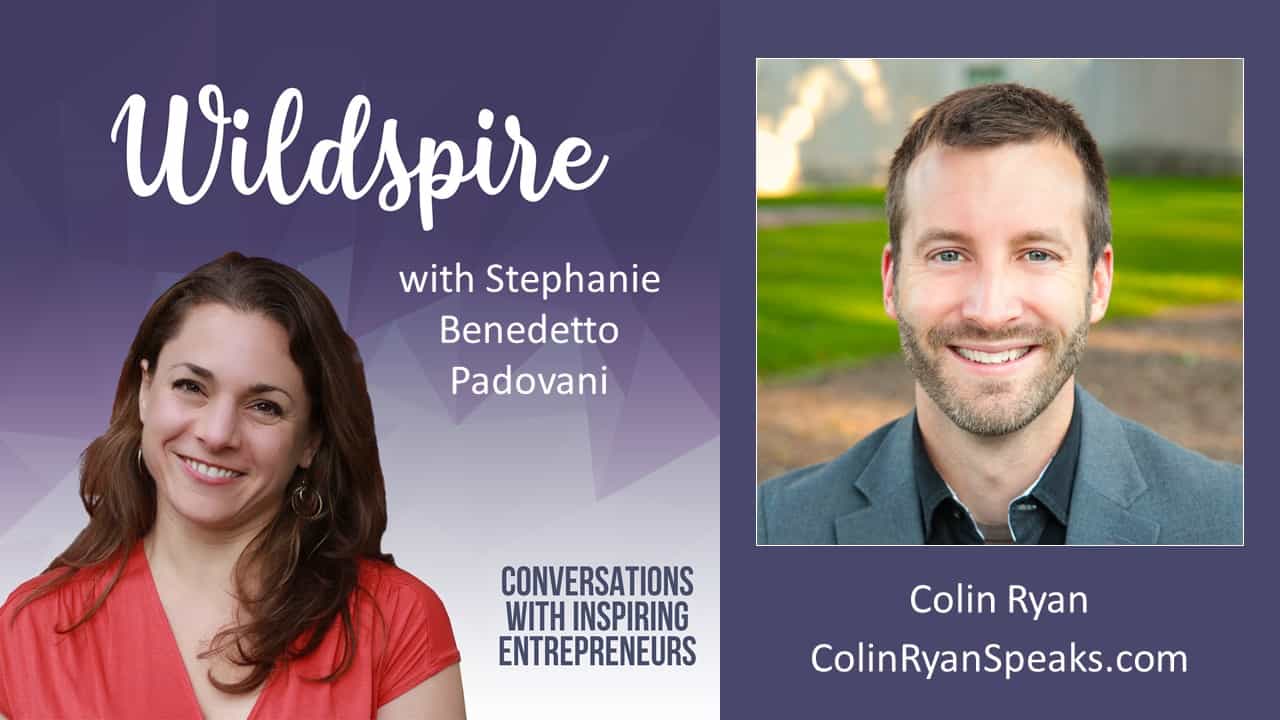 Colin Ryan is both a comedic speaker and a coach for speakers who speaks candidly about his personal battle with anxiety and depression. He joins me for an exploration of how humor facilitates deep connection with an audience, grows your business and creates personal transformation at the same time. It's what he teaches entrepreneurs and models in this intimate conversation. 
We share laughs and vulnerable moments that have transformed the pain of our stories, and along the way, I discover something new about humor as an expression of love. You'll also hear me do a character voice that earns praise from Colin — which thrills me! — a moment that demonstrates how simple and natural connecting with humor can be.
If you'd like to deepen your connection with clients and followers for greater impact in your life and business, you're going to love this entertaining conversation.
Listen to the podcast here:
Here's a bit of what we covered: 
What

death and standup comedy

can teach you about fear

 

How Colin began his

escape from depression and anxiety

with a comedy class that terrified him

 

A surprising

self-love practice 

Colin's

embarrassing story

about airport security

 

Afraid your speech will be dry and boring? This

secret ingredient earns rave reviews

…and anyone can do it.

 

How to

find your authentic brand of humor

even when you don't think you're funny.

 

The

difference between comedy and humor

, and why it's important

 

How

telling a story to other people illuminates possibilities and creates transformation

for both the teller and the audience.

 
"Humor is honesty from a place of self love." – Colin Ryan 
---
Meet Colin Ryan, Award-Winning Speaker, Coach, Author, Comedian & Storyteller
Colin has been featured everywhere from NPR to the Moth Radio Hour and Reader's Digest.
He's a nationally in-demand, award-winning speaker, author, and coach with the background of a professional comedian and storyteller, and has spoken to over 500,000 students and adults across North America, named one of the top 10 college presenters in the U.S.
Colin is the author of A Comedic Guide to Money, a practical gateway guide to personal finance and our relationship to money, and Unforgettable, a guide to making your next presentation one your audience can't stop thinking about.
As a speakers' mentor, Colin is dedicated to helping talented experts become unforgettable ambassadors by finding their voice and sharing their message. He uses humanizing honesty, powerful storytelling, hilarious pop culture touchstones, and a truly inspirational message to transform any subject into an interactive conversation.
Colin recently moved from Burlington, Vermont to Durham, North Carolina with his wife Lindsey Lathrop and their puppy Remy. Remy is not interested in speaker coaching.
Connect with Colin
Website: www.colinryanspeaks.com
Podcast: Courageous Presenters
Facebook: www.facebook.com/groups/courageouspresenters
Colin's Add Humor to Your Message Course:  https://www.colinryanspeaks.com/addinghumorcourse