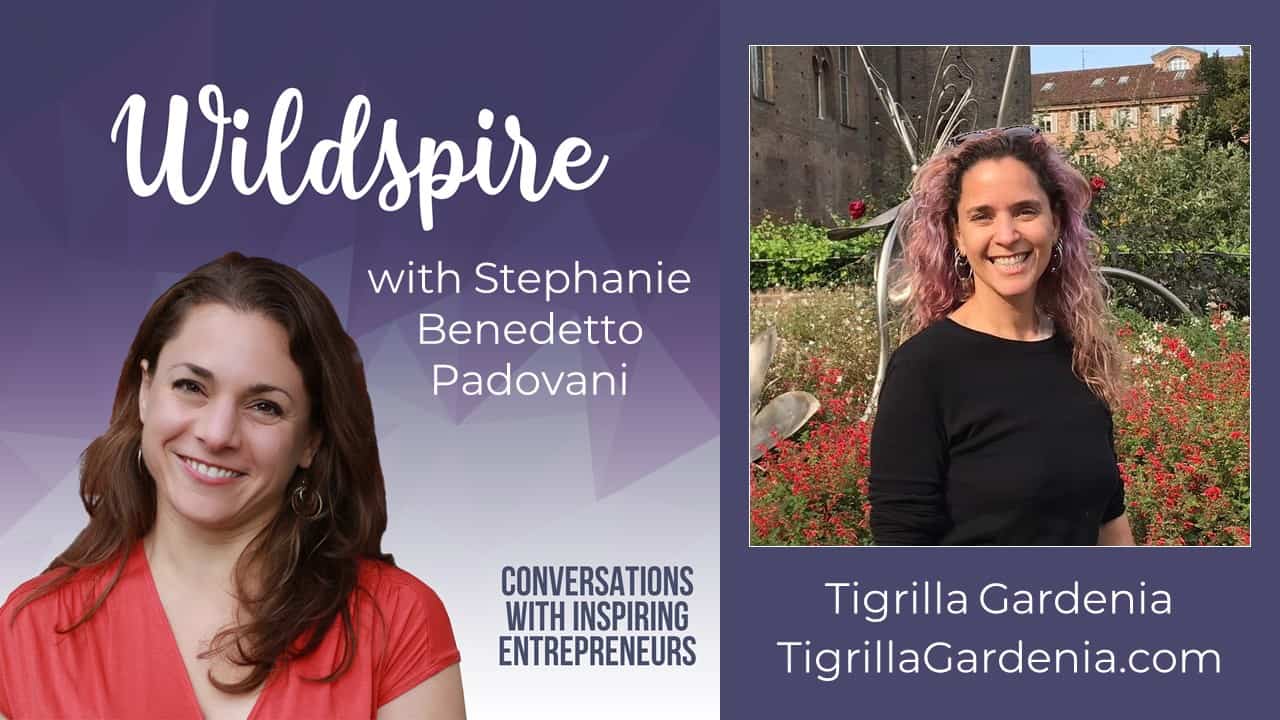 Tigrilla Gardenia, a Nature-Inspired Mentor and Leadership Coach joins me for a conversation about creating a conscious business by emulating and learning from nature, and the nurturing message of plants.
She speaks at length about nature, transformational business, and shares her wealth of knowledge and passion.
Here's some of what we explore:
How to center yourself and calm anxiety with the music of plants.
Why your initial business success can become a liability.
How to identify your spirit plant, and a simple process to connect more deeply with the world around you and yourself.
Finding the clarity you need with plants.
What nature teaches you about doing the right things for your business.
Are you a "pine tree" or a "nurse bush?" How different plants can identify the stage of your business and what it needs to grow.
Listen and download the podcast here:
Watch the video of our full chat, listen to the podcast, or grab some of my takeaways below.
 "When I remember that I am nature, all of a sudden it becomes natural to me to do the right thing." – Tigrilla Gardenia
The Nature-Inspired Evolution of a Conscious Business
How is business related to nature? To paraphrase Tigrilla, who we are is what we do, and what we do is who we are – and that includes our businesses. Business evolves just as nature does.
Nature shows us the interconnected relationships within our business ecosystem. For example, two trees can come from the same seed, but if they grow in different parts of the forest, they will be vastly different. The forest changes the plants, but the plants also change the forest. As we change personally, the way we work will shift, and our business will evolve.
When we do business with an awareness of this natural evolution, it creates an environment where everyone can flourish.
Showing authenticity in our business help it grow naturally. When we are our authentic, conscious selves, this is how we do our marketing; just like a flower uses its color to attract a pollinator, being your authentic self will attract what your business needs.
Everything we create needs to have a purpose and a place. Tigrilla talks about how business is like an ecosystem – in order for something new to take hold, what's old must give way. When we give ourselves permission to let go of what no longer serves us in our lives and our business, then we can grow.
The strategies that work for a stable business may not work when you're creating something new. If you've always relied on referrals or networking to grow your business, try branching out and shifting your focus to new ways to connect with your audience.
When something isn't working in your business, plant a new seed. Failure gives us room for new things to grow. It's not a problem or mistake to be judged; rather, it's the way of evolution.
"A disturbance isn't negative – there are no negative traits in nature." – Tigrilla Gardenia
Meet Tigrilla Gardenia, Nature-Inspired Mentor and Leadership Coach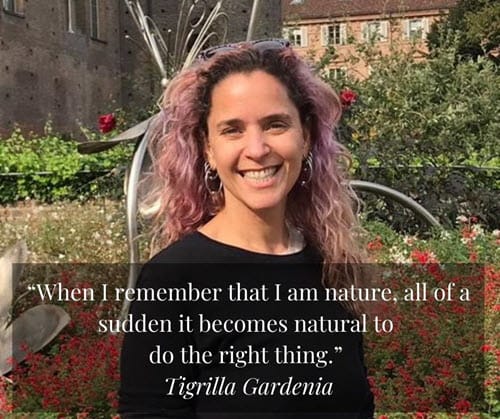 Tigrilla Gardenia has forged her own path to evolve past prescribed confines – taking her on many adventures, including co-owning a circus, producing intentional dance events, teaching Kabbalah, and even touring with Cirque du Soleil.
She earned a degree in music and electrical engineering and entered the high-tech corporate world via RealNetworks and Microsoft in the early days of the internet. Always eager to learn more, she gained a masters degree in Futuro Vegetale (Vegetal Future): plants, social innovation, design from the University of Florence, and has studied Biomimicry, Systems Thinking, and Social BioDesign.
Today, she is a Nature-Inspired Mentor and Leadership Coach whose studies focus on ReConnection and Collaboration with Plants, the Effects of Plant Music on Human Health, and EcoSystems Thinking. Tigrilla has the honor of being a citizen of Damanhur in Italy,one of the largest spiritual eco-communities in the world.
Tigrilla uses her expertise to empower leaders to achieve personal and professional success by integrating nature-inspired innovation. She is an influential speaker, running courses and workshops with Sacred U and her own Naturally Conscious Community.
"Being a Naturally Conscious Leader means reawakening to who you truly are by liberating yourself from the conditions of society, heritage, and education. I believe the plant kingdom wants to help us achieve this for our collective evolution." – Tigrilla Gardenia
Connect with Tigrilla
Website: www.tigrillagardenia.com
Naturally Conscious Community: https://community.tigrillagardenia.com/
Discover your Spirit Wild Plant (for free!): https://tigrillagardenia.com/what-s-your-spirit-wild-plant/. 
---
Subscribe for updates to the Wildspire Conversations podcast here: https://www.theawakenedbusiness.com/wildspire-podcast