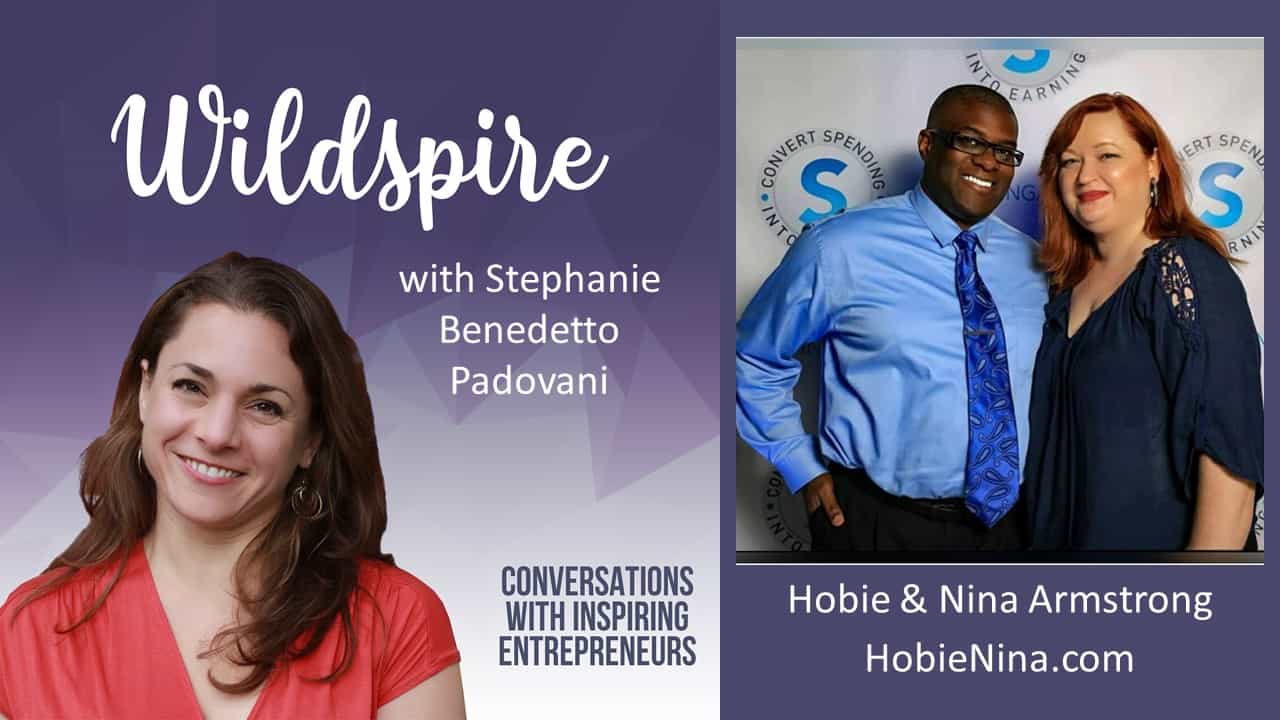 Hobie and Nina are a husband-wife power duo with a mission, "Together, we're unstoppable." They've created several businesses together from unlikely combinations that leverage opportunities in their industries and the environment that other people miss.
In this conversation, we explore the next evolution of their entrepreneurial journey together, incorporating both their strengths and passions, evolving their relationship in the process.
It's the first time I've coached TWO people on the podcast, and it was a blast! 
Watch how the process of brainstorming (which Nina admitted afterwards she'd always hated in the past) ignites their passion and inspiration as we play with possibilities, and swiftly carries them from a vague idea to the creation of an event that's "definitely going to happen."
Listen and download the podcast here:
Here's some of what we explore:
The delicate balance and

strengths of a husband-wife team

when their relationship is also the dynamic of the business.

The real secret to

overcoming fear.

(It's probably not what you think!)

How we

live in our metaphors

and using them to

create transformation.

What

firewalking, breaking the board and bungee jumping

have to do with living a passionate life.

Blending adventure, education and entrepreneurship

into an experience designed for evolution.

When

failing in business

is a good thing.

What it means to

be a better human.
"It's not what someone is telling you it has to be. You can define it for yourself. You have to evolve." – Hobie Armstrong
"I'm always looking for something to learn from someone. It might be a person I never expected."- Nina Armstrong
Meet Hobie & Nina Armstrong, Business Power Duo
Hobie and Nina Armstrong are a husband-wife power duo. Shortly after marrying, they decided to combine their individual skills, energy, and motivation in one direction and started HobieNina.com, which includes Music on the Move entertainment services and Makeup On the Move for beauty consultations and makeup artistry.
Their skill sets and strengths complement each other. While they're very different — Hobie likes to be out front doing the talking, and Nina claims to prefer staying behind the scenes — each of them has the autonomy to excel in their individual areas of expertise and then come together, working as a team. 
The two have built an incredible support network over the years of mentors and friends they can turn to for advice or a sympathetic ear.  They're quick to embrace new entrepreneurs and those willing to step out and take risks in order to move forward. 
Hobie and Nina are grateful for their God-given gifts and promise to live every day with purpose and passion, sharing their talents with others. They believe that together, they are unstoppable, knowing what they want, choosing to act with passion and commitment and accept that their goals are possible.
Connect with Hobie & Nina
Website: www.HobieNina.com
Facebook: https://www.facebook.com/HobieNina
Instagram: https://www.instagram.com/hobienina/