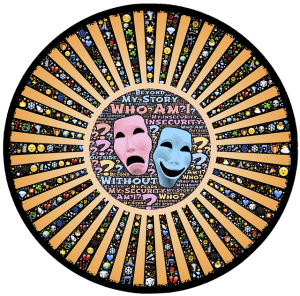 I got called out by a coach today.
He wasn't even "my" coach — at least not yet — it was our first meeting on video chat. (His name is Craig Filek and his genius is Purpose Mapping, if you're curious.)
"Usually there's a 'hook' in a conversation that takes us deep, like we're fishing for the truth," he says. "But it's not like that with you. Your energy is so bright, full and present."
I feel myself blushing.
He continues…
"When someone is that bright and shiny, there's always another side. What is it that you DON'T want me to know?"
My smile fades. Out tumbles the tale of my turbulent year, (mis)adventures, radical changes.
I end with this statement:
"I don't want you to know that I'm absolutely RUTHLESS when it comes to getting what I want. If I believe something will create greater transformation I will trample over anyone to get it."
My heart is pounding and I can scarcely believe I'm saying these words.
"Thank you," he smiles. "I trust you more now."
He goes on to explain that beyond the Kracken lurking in the depths that I'm afraid to unleash — there is GOLD.
I can feel the trembling half-anxiety, half-excitement that lets me know it's true.
There is a monster inside me that I keep locked up tight.
He gives me a task, to write down my answer to this question:
WHAT ARE YOU AFRAID WILL HAPPEN IF YOU EXPRESS YOURSELF COMPLETELY?
Oh, my.
My loved ones will abandon me…
My words will be misunderstood and hurt people…
The whole goddamn world will explode into a billion tiny bits of protoplasm…
I'm still answering that question.
And I turn it over to you.
I dare you to answer it for yourself.
"What are you afraid will happen if you express yourself fully, totally, completely, without holding anything back?"
GO WHERE YOU DON'T WANT TO GO.
Therein lies your greatest treasure.