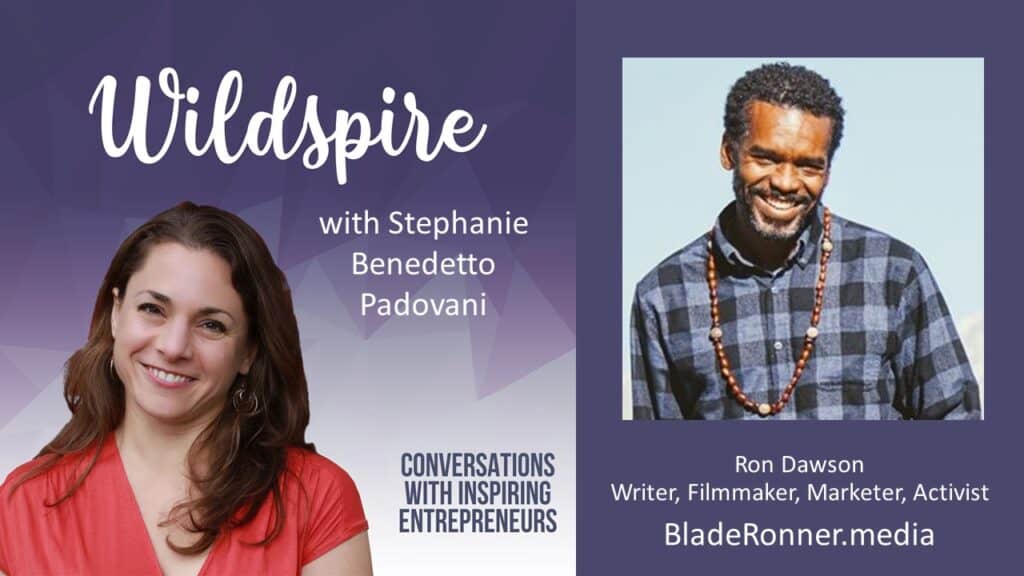 I've been in Ron Dawson's orbit for many years, since back in my wedding industry days when he was a filmmaker and I was a wedding marketing educator and coach.

When the world went crazy with racial unrest and a call to make a difference, his voice is a beacon in the darkness with his well-researched arguments and fierce passion for change.

While Ron refers to himself as more "Dark Knight than Superman," due to a message that's "hard around the edges," he models compassion and a willingness to communicate. Not to mention a quirky sense of humor that will crack you up, even as his message wakes you up.

I'm so excited for this conversation in which we uncover a strategy to fast track his book and movie project (yay!) and Ron graciously teaches me more about how to deal with and talk about white privilege.

THIS IS SO GOOD.

---
Listen and download the podcast here:
A few of the topics we cover:

The myth of "work life balance"


How to align your artistic passions with the money. (Watch Ron experience an "aha" real time that will fast track his book/movie project. Yes!)


What makes conversations about white privilege accessible and effective for white people.


Being willing to "show up and screw up" in talking about race.


The irony of using failure to avoid failure.


How to speak up with a dissenting opinion online in a way that opens the door for dialogue and why it's important — even when someone gets pissed off.
"Everyone has a type of privilege based on a demographic. Having white privilege is not bad, denying it is." – Ron Dawson

Meet Ron Dawson, Writer, Filmmaker, Marketer & Activist

By day Ron is a brand marketer and content strategist for media and tech companies, as well as high profile artists. By night he dons his "black suit" and writes about lighter things in life like race relations, politics, and faith.

He's author of the satirical non-fiction/fictional hybrid Dungeons 'n' Durags: One Black Nerd's Epic Quest of Self-discovery, Race Relations, and Crisis of Faith in Trump's America. He is self-publishing it on Medium where his writing has been curated to such topics as Marketing, Race, Writing, Culture, and Productivity.

A little known fact about Ron is that he used to dance on a semi-professional Lindy Hop dance troupe where his signature move was leapfrogging over his partner's shoulders and landing in the splits.

You can learn more about everything he does (sans swing dancing) at https://bladeronner.media

Connect with Ron:

Book: https://dungeons-n-durags.com/read-the-book
Website: https://bladeronner.media
Medium: https://medium.com/@rondawson

---
Subscribe for updates to the Wildspire Conversations podcast here: https://www.theawakenedbusiness.com/wildspire-podcast/