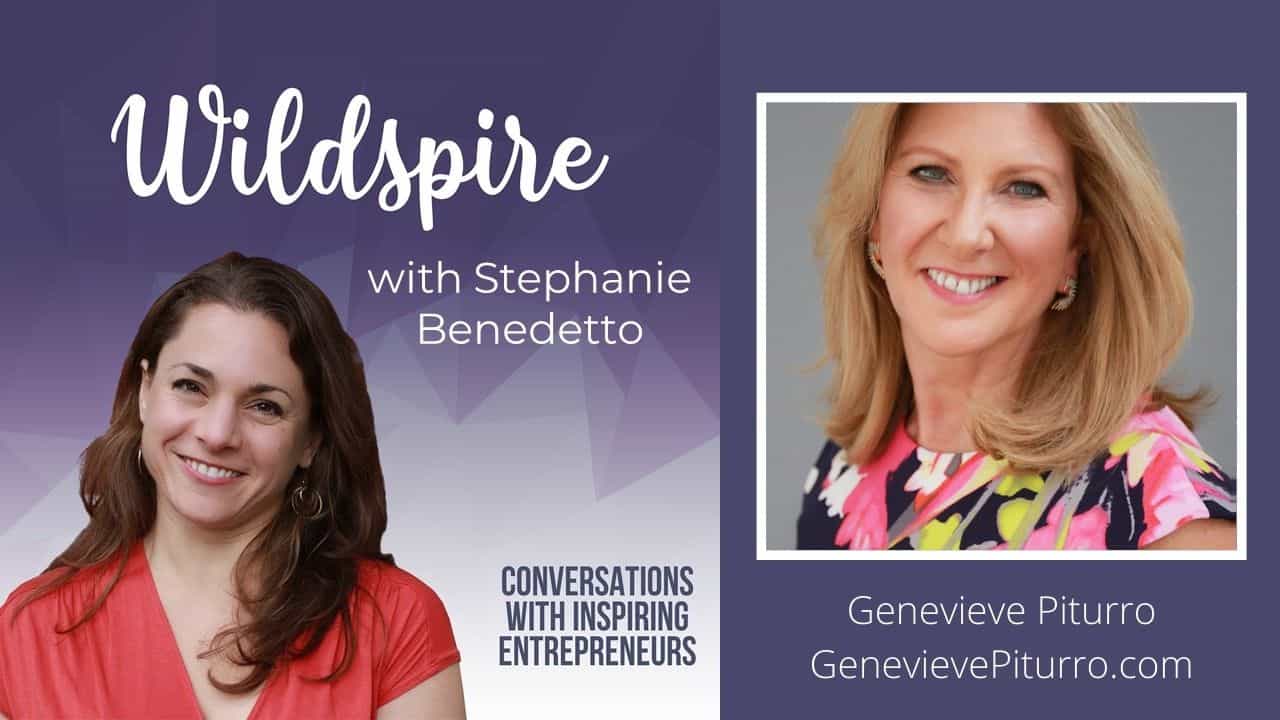 How do you find your purpose without turning your life upside down? 
My podcast guest today is author, speaker, Purpose Coach, and fellow New Yorker, Genevieve Piturro. After 20 years spreading the word and telling her story of purpose, passion and pajamas, her enthusiasm hasn't dimmed one bit. 
We talk about the one aha moment that changed Genevieve's entire life, listening to your heart-voice, finding your cheerleaders, and acting on your dreams in the face of fear. 
Here's some of what we explore: 
How a little girl's whispered question and a pair of pajamas transformed Genevieve from a single, workaholic in the corporate world to the founder of a non-profit she loves
The "slide" and the "jump" for bringing purpose into your life
Where to start when going for your dream looks too big
The power of asking for help and finding your cheerleaders
Changing the world with human connection and joy, one simple moment at a time
Starting a movement and spreading joy by following your heart-voice and telling a story 
Listen to the podcast here:
"When you speak from your heart, you connect with people, especially when you tell a story." – Genevieve Piturro
Find Your Purpose & Change the World with Contagious Joy
Finding your purpose is an inward journey of listening to your heart-voice. Genevieve was firmly set on a career as a successful single woman in corporate New York City, when her heart asked the question, "If this is the next 30 years, is it enough?" She began volunteering at a local emergency center, reading books to children, and her experience sparked the idea of a non-profit providing books and pajamas to children in need. Pajama Program has now delivered over 7 million new books and pajamas and has over 63 chapters across the US. 
Living your purpose is a service. When you honor your heart's calling, it's a gift to yourself and the world. The joy you experience overflows into every area of your life, and sharing your story will inspire others to pursue their own dreams. 
You can start small when pursuing your purpose. You don't have to reinvent your life like Genevieve did. You can gently move your passion to the front burner with just an hour a week or even a month. Take a dance class, volunteer, read, talk to people who are doing what you'd love to do.
Your heart-voice is kind and patient; it keeps whispering. Even if you've been ignoring it for some time, it doesn't go away. It will continue to nudge you towards your dreams. You can begin to experience the feeling of following your dreams right now. 
Talk to people and ask for help on your journey. You won't learn until you start exploring. You'll need cheerleaders to support you against the naysayers. People will share when they see your passion, and the more you learn and explore, the more clearly your path will appear. 
When you tell your heart's story, it connects. Don't keep your passion to yourself! Telling others spreads the word. We connect through story. 
Sometimes you just have to do it afraid. Once you acknowledge that you're feeling the fear, it lessens. Simply knowing that it doesn't have to stop you means it doesn't stop you. You don't need to know what's going to happen next in order for your heart-voice to guide you. 
Your head will argue, but eventually it gets on board. Get quiet and listen to your heart-voice. When your head sees you mean business in following your heart, it will pitch in to help. Often we don't stay quiet and still long enough to hear that inner voice. 
You'll know if your heart is speaking to you. Trust yourself, find some cheerleaders, reach out for support. You can do it one step at a time. 
Accept that not everyone will support your idea. Some people just won't get it. That's okay. Keep your cheerleaders close. When you know not everyone will love it, that's okay. Only you have to love it. 
"It's not the power of one that changes the world; it's the power of one another that moves mountains and people." – Genevieve Piturro 
Meet Genevive Piturro, Speaker, Author, Strategist, Founder of Pajama Program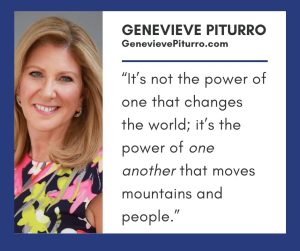 Genevieve Piturro was a successful television marketing executive until she dramatically changed the direction of her life. She found her true purpose when a sudden voice inside her head challenged her life as she knew it. In 2001, she founded the hugely successful national non-profit, Pajama Program, when a six-year-old girl's question changed her life forever and she jumped off the corporate ladder! Almost twenty years later, Genevieve's Pajama Program has delivered 7 MILLION magical gifts of new pajamas and new books to children throughout the US.
Genevieve is now a best-selling author, professional speaker, personal strategy coach and consultant, sharing life and leadership lessons she learned through her Pajama Program journey. Her book Purpose, Passion and Pajamas: How to Transform Your Life, Embrace the Human Connection and Lead with Meaning was released in August 2020 and  is the  winner for INSPIRATIONAL book in the 2021 National Indie Excellence® Awards. She presented her first  TEDx talk, "1 Idea + The Human Connection = 7 Million Pajamas and Books" in August 2020. 
She has been interviewed on and in many local and national media outlets including OPRAH, TODAY, GMA, The Early Show, CNN, Fox & Friends, Hallmark Home & Family, O Magazine, Forbes, The Wall Street Journal, and Parenting Magazine. Genevieve rang the Nasdaq Stock Market Opening Bell in 2016.  She has been the recipient of many local and national awards as she inspires others to listen to their heart-voice in pursuing their passions. Genevieve lives in Irvington, NY with her husband, Demo DiMartile. 
Connect with Genevieve
Website: http://www.genevievepiturro.com
Book: Purpose, Passion & Pajamas
---
Subscribe to the Wildspire podcast: https://www.theawakenedbusiness.com/wildspire-podcast