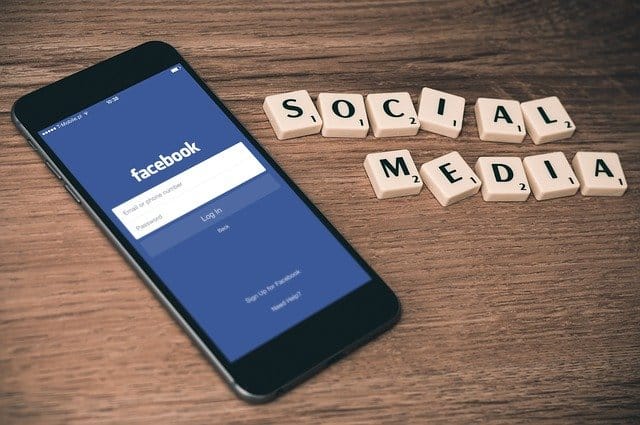 As a part of my No Social Media Unmarketing Experiment, I'm connected with amazing entrepreneurs pioneering new, aligned ways of reaching their audiences, with or without Facebook.
They're passionate, determined, creative and inspiring reminders that you can do business in a way that lights you up. You're about to meet two of them. More to come!
Facebook Exit 11/11
Avalon Darnesh is a Business Witch, Sacred Feminine Mentor, Temple Priestess and Oracle at Blossoming Woman who's publicly announced her upcoming Facebook Exit on 11/11.
Avalon spent years creating a strong following primarily by sharing her powerful message and connecting with women on Facebook. Leaving the platform might look like a crazy choice.
So why is she doing it?
I attended Avalon's recent Facebook Exit Strategy call where she explained her reasons for leaving in depth, but here's a brief summary:
The Facebook platform doesn't feel aligned for her. It's steeped in the Old Paradigm of fear, scarcity and manipulation, while Avalon is moving into the New Paradigm based on love, unity and connection.
She finds its energy corrupt and distorted, noting how the algorithms prey on vulnerable teens for sales and designed to deliberately create addition.
From a practical point of view, with so many changes to the algorithm and the uprising against Facebook, she points out that her business is vulnerable if she relies upon it as her sole means of connecting with potential clients and partners.
Avalon's commitment is to be more intentional and focused, with a more potent message, without Facebook.
While Avalon is weaning herself off social media, she notes that it's not a choice for everyone. People can still use Facebook as a tool for creating positive change, despite its issues.
"You need to connect in real life. Use screens as a tool, but develop a network. If we get off our screen and look at real life, we can visualize and collaborate together." – Avalon Darnesh

Avalon's Advice
While Avalon's departure from Facebook has been intuitively led, she's been prepping it for a long time. Each step is intentional and strategic, shifting any fears about what might happen into action.
She gives this advice when considering your own Facebook exit, and the same principles can be applied to other social media platforms.
#1 – Find other ways of connecting with people.
Subscribe to their email lists, bookmark their websites, create Whats App groups, or contact them directly to make sure the connection is maintained. Take back your power and be proactive about the connections you wish to keep.
#2 – Make it easy for people to find and connect with you.
Make repeated announcements before you leave, "I'm leaving Facebook. If you want to stay connected, this is where I'm going to be. Those who want to follow you will continue to do so.
#3 – Create a potent, targeted message on your website and any platforms you're maintaining.
Avalon has updated her copy and offers to be clear and specific so that people will understand what she does and who she does it for. Her aim is to be visible and recognizable, making it easy for her ideal clients to take the next step in following or joining her community.
#4 – Move or create your community off Facebook.
Avalon has a thriving membership site at the Divine Mother Temple. Conversations and connection within the community will continue there.
This might also be accomplished with platforms emulating the features of Facebook groups, like Mighty Networks or Ugenie. (I'll talk about these in future articles.)
#5 – Invite your followers to become email subscribers.

Avalon focuses on quality ather than quantity. It's not about getting more subscribers on the list, but about creating relevant and useful connections, something that email still facilitates.

She's cleaned up her inbox and set up email rules to organize and manage her communications, as they'll likely increase after her Facebook departure.

#6 – Get creative about alternative means for connecting with potential clients.

Avalon's choice is to move her presence to other social media platforms, such as YouTube, Instagram and LinkedIn. She's taking the time to learn about each and establishing a consistent, clear presence.

The same principles apply on any platform: contribute value, engage, and connect.

In addition, she's getting strategic about placing her written articles in the online and offline publications that are aligned for her and her audience. The end of each piece will include a call to action to visit her website or connect by email, and she'll also be writing a book.

Strategic partnerships remain an effective part of Avalon's strategy. As such, she's reaching out to like-minded collaborators with communities where she can share her message and reciprocate. She's actively seeking out infrastructure both online and off, where she can connect with her soul tribe.

Where are the conversations you'd like to join happening? Create a presence there.

Avalon's journey of leaving Facebook is one of hope and empowerment, evidence of her continuing commitment to authentic connection, community and the appropriate use of technology.

"In terms of flourishing beyond Facebook, I don't know what that is yet. I'm feeling excited and elevated that my message will reach further." – Avalon Darnesh
Staying On Facebook? Take Back Your Power

Dave Booda of Boodaism is a writer, teacher, podcaster and musician. His article, "A Practical Guide to Taking Back Your Power From Social Media (Without Deleting It)" offers an alternative for people who choose to stay and use Facebook, with resources well worth exploring.

"It all revolves around one key principle: Reclaiming choice." – Dave Booda
His suggestions for empowered social media use include:

#1 – Make your feed boring.

Dave accomplished this by unfollowing everyone on Facebook. He's still connected, but his feed is now EMPTY.

If you'd like a less cumbersome escape from the constant distraction of the feed, try the Chrome app News Feed Eradicator.

This is what mine looks like with News Feed Eradicator enabled: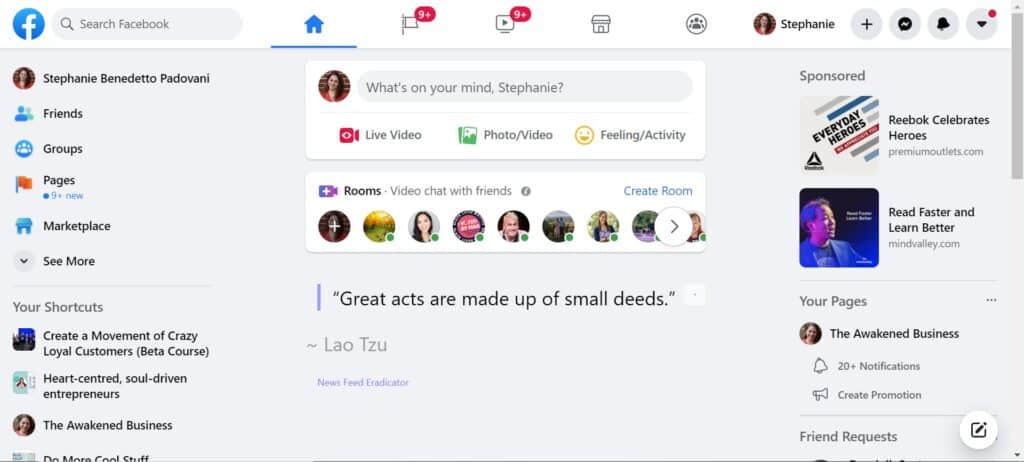 You retain access to your friends' profiles as well as any pages or groups you'd like to follow, but now you only see them when you choose. No more algorithmic influence.

#2 – Move your contacts and followers to your email list.

Dave shares his writings regularly on his email list, using social media to share his pieces and invite people to follow him there.

#3 – Bookmark the people and websites you'd really like to follow, and create a system to stay in touch.

Dave's thoughts echo Avalon's urging us to be empowered and proactive in our choices. If you really want to maintain your connection with someone, you'll find a way to do it — without social media — like we did before these platforms existed.

#NoSocialMedia #UnmarketingExperiment Summary

While it may be tempting to whine and complain about how we're "stuck with Facebook" for staying connected in a modern world, this simply isn't true.

If something isn't working for you, choose something else. Or invent it if it doesn't exist. Entrepreneurs like Avalon and Dave are living proof that creative alternatives to social media and empowering usage are possible.

While I'm not sure exactly where this experiment is taking me, it's becoming increasingly apparent that there IS a way to reach my audience without social media dependence. I just need to be creative and willing to explore the options, and if I do choose to keep these platforms in my life, I can do it on my terms.

Are you using social media for your business? What do you think?

Yours in creative play,
Steph
P.S. If you're successfully getting client leads without social media and would like to be featured in the Unmarketing Experiment, contact me.
You're also invited to subscribe to my email list here for updates on my No Social Media Unmarketing Experiment.