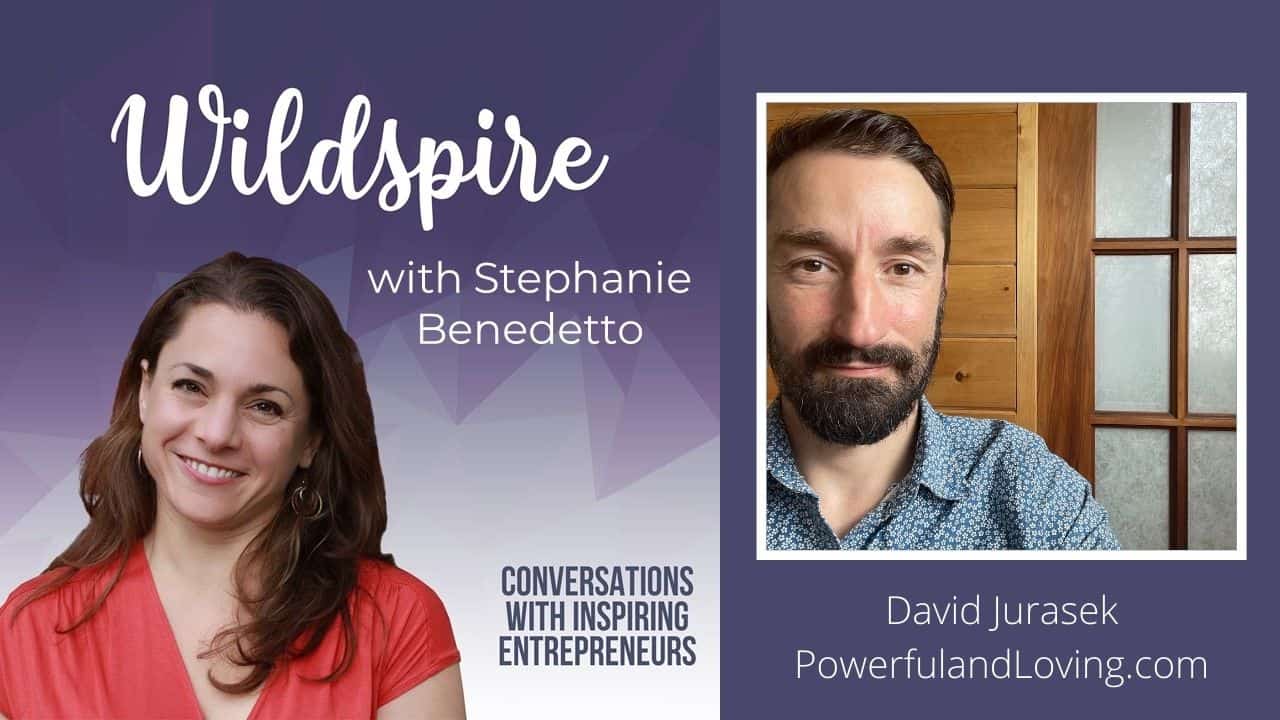 If you have a hunger to connect deeply in relationships and community, you'll love my guest, David Jurasek.
David showed up with openness and curiosity, absolutely ready to play and explore. It was the first conversation we had, and I was delighted by the invitation of his presence to go deeper.
We talk about embodying your wild, primal nature, navigating the darkness and inviting people into the depths when it seems like they don't want to go. You'll get a glimpse of David's rich life experiences and many identities: child refugee, filmmaker, sensei, father, near death experience and cancer survivor, therapist, performer.
Here's some of what we explore:
How to invite people into deep connection when they're playing in the shallows 
Embodying your wild and the undiscovered country of your primal nature 
The power of choosing your clients, friends and yourself 
David's transformative experience with playback theater 
Being visible to clients and chasing the hollow approval of social media 
David's story of "failure" as a therapist and his life-changing breakthrough at a meditation retreat 
The gift of accepting yourself as a contradictory, paradoxical and multi-dimensional being 
With guest appearances by Tiger, Jaguar, Dolphin and Puck
Listen to the podcast here:
*CONTENT WARNING: profanities may not be suitable for children or well-behaved adults.
"Everything I do is a pretext to be able to play with my friends." – David Jurasek
An Invitation to Deep Connection With Your Authentic Self, Others & Community
Choose the people in your life. You can choose your clients, recognize that you're choosing each other, and then discover why you did so in your relationship. Each moment is a gift and you get to choose who to share it with.
Make space for the body's invitation. David leads us through a simple warm up exercise for waking up the body as prelude to an embodied conversation
Befriend your primal self, embody your wild, and embrace the darkness. Providing nourishment to these potential saboteurs means you need no longer be driven by them. They evolve as aspects of yourself and become allies. You can transcend your identities and roles to discover the Self beyond them.
Playback theater offers a deeply healing human connection that's a lost art in modern society. As the performers play back the stories of audience members, people feel deeply seen and heard. As a performer, it's stepping into the Unknown without an agenda, and it offers the nourishment of deep connection through community.
While the shallowness of social media can be disappointing, it can still be useful for finding clients and relationship building. You can leave soulful breadcrumbs on social media as an invitation for deeper connection. Showing up as yourself will draw the people you're meant to serve. Everyone has access to the depths; they just don't know it.
Your message may be for the haters as much as your fans. A seed is planted, whether someone agrees or not, and it may take months or even years before it yields fruit. Don't let the fear of disapproval stop you from sharing your gifts.
Everyone has issues, but you can transcend them by coming home to who you really are. David experienced a profound breakthrough during a vipassana retreat when he realized that he was the Watcher of his emotions, not his shame, guilt and fear. When you bring all these epxeriences forth, it's magic. We expand into our multi-dimensional beingness. What lies beneath is eternally present and timeless.
"To see who we really are under the layers and parts, there's something eternal, present in this moment, and timeless. My hope is to try to reveal that presence to people." – David Jurasek
Meet David Jurasek, Father, Husband, Sensei, Therapist, Community Leader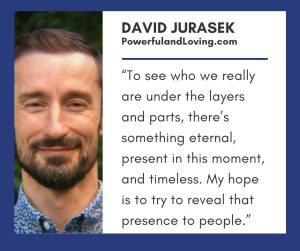 David Jurasek is a proud father, grateful husband, humbled Sensei, curious therapist and very playful community leader with over 25 years experience in founding and running wild and creative projects like an empathic improv theatre company and a therapuetic martial arts school. His life's work is building a village of exceptional men invested in growing their relationship muscles, called Powerful And Loving. 
Connect with David
Website:  www.powerfulandloving.com
Instagram: www.instagram.com/powerfulandloving
Youtube: https://www.youtube.com/channel/UCAQikxdOFSBxfZpNfUojHmQ
Resources:
The Biggest Booby Trap on the Internet (Bradley Morris podcast mentioned in our discussion)
---
Subscribe to the Wildspire podcast: https://www.theawakenedbusiness.com/wildspire-podcast