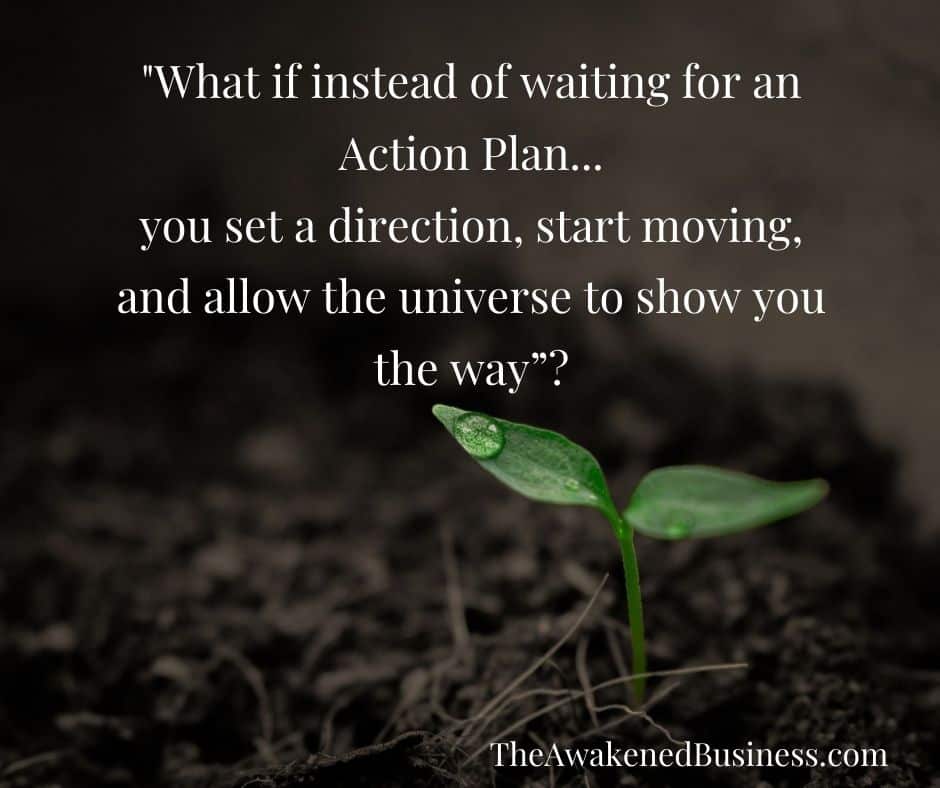 Your desire for a Strategic Action Plan may be holding you back from the profitable, joyful business you desire.

I've resisted saying this publicly because it goes against what I've been taught by Business-As-Usual.

My marketing mentors would be rolling over in their graves! If they were deceased and actually in graves, that is.

It's not that action plans are BAD. They can be useful, but…

Clients often come to me for an ACTION PLAN for their business. They want to know steps they need to take to get from Point A to Point B.

It takes a series of actions for creating anything in the world, so we'd like to map it all out and plot the course to our desired destination. Having an Action Plan makes us feel safe and secure that we're doing it right.

Except it doesn't seem to me that creation is predictable.

I used to be the Queen of the Action Strategy. I still have a knack for breaking things down into small, actionable steps.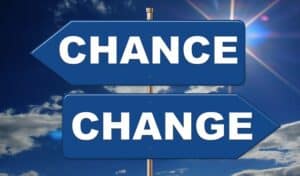 But here's the thing I've noticed about being attached to an Action Plan:

The possibilities you're able to see become limited by what YOU think is possible and how you think it should be done.

It keeps you locked into following the rules, systems and strategies of other people…rather than listening to your own inner wisdom and creativity.

Creation with infinite possibilities isn't linear and often doesn't "make sense."

It's less like designing and following the blueprint of the exact home of your dreams…

…and more like planting a mystery seed that you water and nurture, discovering its identity as it sprouts, blooms and grows. *seed*

Creation is ALIVE and emerging in every moment.

It allows for miraculous synchronicities and serendipitous encounters, the magic of people and opportunities showing up at just the right time.

Here's a story from my own life:

On a whim, I made the declaration that I would tell a story in Japanese on stage in Tokyo, Japan. (My Creating the Impossible project earlier this year.)

The very next day, a Trusted Housesitters email advertising a pet sit outside Tokyo for an entire month arrived in my inbox. There had been very few housesits in Japan on the list (I'd been looking) and most were for too short a duration.

I applied for the housesit, doubtful that it would come through, since in my experience it normally takes multiple applications to get an international interview.

"At least I'm putting it out to the universe," I thought.

Four hours later, I received a response inviting me to the sit, without even talking to me!

"I believe in trusting my intuition," my host wrote, "and I think you're meant to have this adventure in Japan."

Less than 24 hours after setting my intention, I had confirmed free accommodations for my stay in Japan.

If I'd created a PLAN for heading to Japan first, based on what looked realistic and possible to me, I would have:

Researched the best time to visit and visa applications
Searched for the best accommodations and flights
Lined up a storytelling venue and opportunity
Hired a Japanese tutor
Chosen a date at least six months out to give me time for learning Japanese
I never would have applied for the housesit and the opportunity would have been missed.

Instead, I leapt right in and allowed the universe to show me the way. And in this case, it moved fast!

Now, you CAN create your business with a Strategic Action Plan, but inevitably, you'll narrow your vision such that it can only happen the way you expect it to, on a timeline that looks "realistic."

What if instead you set a direction and start moving, allowing the universe to show you what's necessary along the way?

Quick update on my Japan project:

As is often the case with creation, things didn't go exactly as planned, despite the miraculous beginning.

My visit didn't happen in April, due to COVID.

But in the interim, I've lined up Toyko storytelling connections, taken rakugo lessons, can now speak and read Japanese (poorly, but with enthusiasm!) and have weekly chats with a new storytelling friend in Tokyo.

If you desire something truly amazing and joyful in your business, I invite you to consider dropping your "plan."

Allow yourself to be guided by your inspiration and curiosity into opportunities you've never dreamed of.

We can't predict the future, much as our beautiful minds love dreaming up stories of what's going to happen.

But we can create it from this moment, flowing with the river of possibilities as life guides us.

This is the space where I love to play with my client-playmates. 🙂

I have a six-month coaching adventure for experienced coaches, healers and wellness practitioners who are pivoting or transitioning into that next Something Big. We'll craft the offers, services and pricing that light you up, create transformational content and "un-market" your business to easily and authentically attract 3-5 client leads per week.

This offer is for world-changers who are getting results for clients, even if you're creating something brand new, and who are good (or great) writers and/or speakers who love sharing their message and expertise. It's currently priced in the mid-four figures. PM me here if you're interested and we'll have a chat to see if it's a match.

Yours in creative play,

Steph