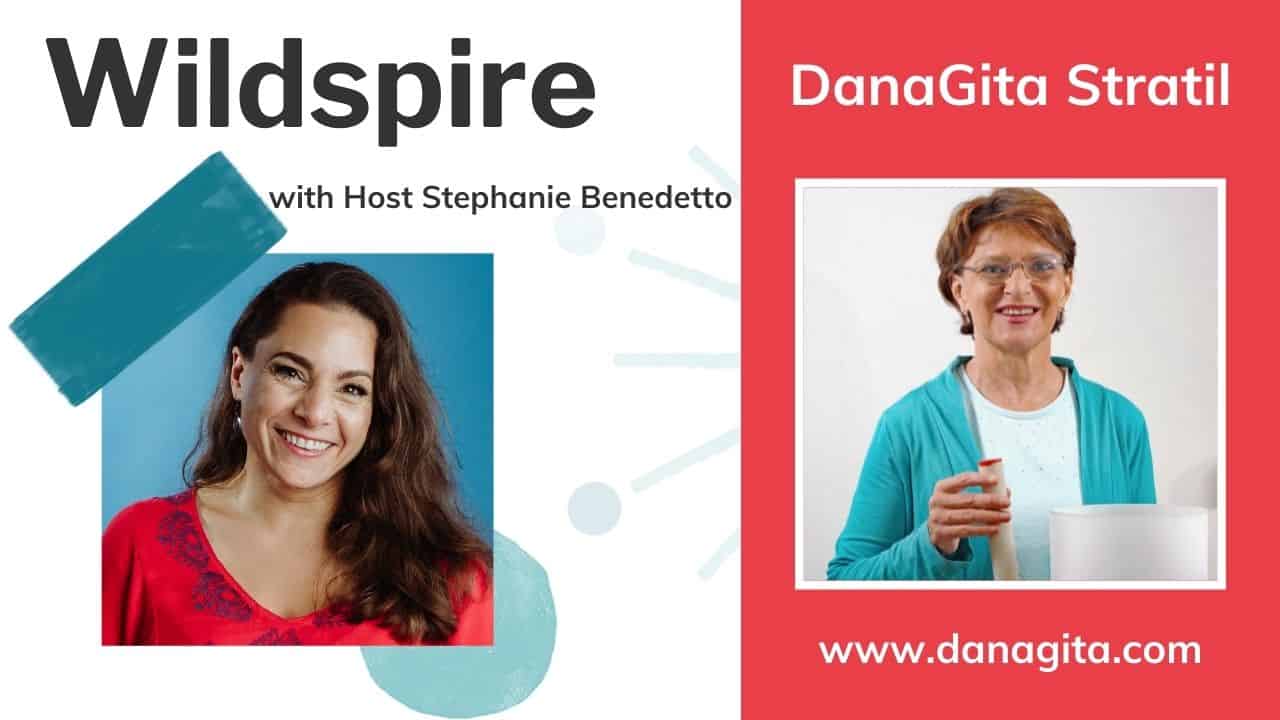 What is the connection between finding your voice and your spiritual human experience?
In this lovely conversation with the magical DanaGita Stratil, sound healer and overtone singer, we discuss expressing your authentic voice, the vibration of life, dealing with stuckness, and you'll get a special sound meditation treat.
Here's some of what we explore:
Awakening your authentic voice and creative expression
The connection between your human and spiritual self in the body
What blocks you from expressing your voice and how to shift it
The space where transformation and healing occurs
The healing power of sound and coming together as a group
What makes the difference between flow and stuckness
A simple sound exercise for releasing stress and struggle
Listen to the podcast here:
How to Find Your Authentic Voice and Expression In the World
"There comes a graceful moment, a co-creation between you, me and our guides…when that connects, a stream of healing energy flows in." – DanaGita Stratil
Sound and the voice is a vehicle for awakening and healing. Connecting to the spiritual and human realms opens up the space of the divine vibration. Sound incorporates a broader range of vibrational frequencies than only audible sound, which is why energy can be used to heal. Where light and sound meet there is a huge potential for healing.
When you work with the inner sound, the outer sound becomes more beautiful. DanaGita teaches people how to find their inner voice and it outwardly without losing that inner connectedness. When you attune and align, going into the deeper space, everything you don't need falls away naturally. When you address the spiritual aspect, the physical takes care of itself.
The experience of healing is amplified by a group. It's as if we're all instruments and together, we form an orchestra. "We gift each other with presence," DanaGita says.
Being present in the midst of struggle creates a space where you can find flow. It's not always going to feel easy and there will be challenges, but when you relax into the struggle it lessens.
Turn your struggle into a song. DanaGita suggests giving a voice to your struggle. It doesn't have to be a nice song! Crying, laughing or screaming can help. It becomes softer and opens up a space where you can be with it.
"Tune into your inner voice and find the voice of your soul. Your sound signature." – DanaGita Stratil
Meet DanaGita Stratil, Spiritual Singer, Voice Healer & Mentor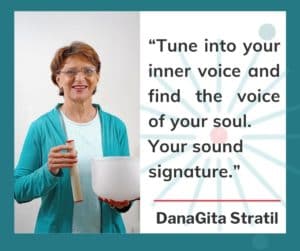 DanaGita lives in Switzerland and loves to roam in the mountains and explore magical power places across the globe. She's a spiritual singer, intuitive energy and voice healer, mentor and guide.
She loves finding healers, coaches, change-makers and spiritual seekers who are already great at what they do and long to share their expertise and calling with a broader audience. They long to Awaken Their True Voice, share their inner Being, bring their services to the next level and attract perfectly aligned Soul clients.
In her Awakened Voice Academy, DanaGita brings 35 years of expertise, experience, and wisdom together. She teaches deeply transformational voice and energy tools that help melt any blocks on the path to awakening. These tools include toning, singing, overtone chanting, mantras, the SAMA Sonology Indian music therapy, Shamanic journeys, and Nada (sound) Yoga. She is also certified in Polarity Therapy, Reiki, and Matrix-Healing.
Her passion is teaching people on the seeker's path how to free their voice, heal themselves, and stand in their power. DanaGita helps you transform anything that hinders you from finding your authentic voice to sing your heart out, speak your truth, and grow spiritually.
Connect with DanaGita
Facebook: https://www.facebook.com/danagitacom
Website: https://www.danagita.com
Subscribe to the Wildspire podcast: https://www.theawakenedbusiness.com/wildspire