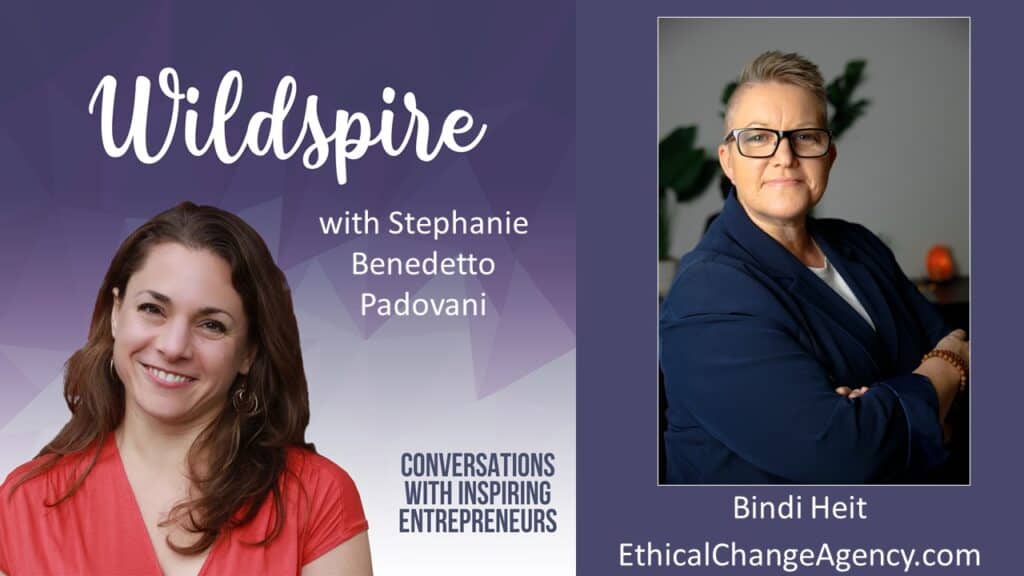 Bindi Heit of the Ethical Change Agency has a superpower for creating deep, meaningful connections and thought-provoking conversations. She describes herself as a business coach and producer for ethical business owners who are changing the world, helping them tap their passion, align their message with their mission and broadcast it via podcasts, social media and TV shows. 
Her specialty in podcast production and the power of reaching people with a mission-inspired message inspired me to connect and learn more about how to reach an audience and create impact without spending hours on social media.
Our conversation covers how to start a podcast, determine which social media platforms will work for you, and the power of aligning everything in your business with your greatest passion.
Watch and listen in on our conversation here or grab the highlights below.
Here's some of what we covered:
The platform for broadcasting your message to hundreds of channels and getting onto Page 1 of the search engines…that works better than social media


The secret to creating a podcast and brand that's unstoppable


The 3 biggest mistakes people make with podcasting and what to do when you're just starting out


Creating your own ecosystem to broadcast your message for change


Why most entrepreneurs are doing social media "wrong," even when they know how to use the platform


How to amplify your message for each podcast episode


What website design taught Bindi about creating a seamless brand message
Podcasting Power for Coaches and Changemakers
Hosting a podcast immediately positions you as a thought leader and an authority in your field because it allows you to share your knowledge. Because changemakers and conscious business owners are motivated by a heart-centered calling, this makes it an easy match for coaches, holistic healers and spiritual entrepreneurs.
Podcasting is a powerful platform for reaching a larger audience because, unlike a website which can be difficult to get ranking on Page 1, a podcast gives you access to hundreds of channels through podcast distribution networks. Each of these platforms is indexed, making your content more discoverable by searchers. The search engines value the presence of text, audio, video and social media signals on your website as well, which means your website also earns higher ranking.
Tips For Podcasters
One of the biggest mistakes people make in podcasting is being too self-promotional. Your podcast message and content needs to align with your mission to create impact and longevity. It's not a selling platform. When you connect and build relationships, the sales come naturally later on.
When starting a podcast:
Always begin with a strong message aligned with your mission and purpose.


Choose a podcast format that suits you: interview, solo monologue, stories, coaching. There are several podcast styles to choose from.


Share stories and be real. It's the human connection people crave.


Make sure your podcast is available via your website along with the distribution networks to take full advantage of SEO visibility.


Start simple if necessary with a USB microphone plugged into your laptop and an editing program like Garage Band. Invest when you can.


Consistency is important. Create content regularly and stick with it.
Repurpose your podcast as content for your blog, social media posts, memes, excerpts and video. Bindi helps her clients spin a single episode into multiple pieces and broadcast them on numerous platforms for maximum reach.
While most podcasters don't directly make money from their podcasts, they create mutually beneficial relationships that prove profitable over the long term, and many of Bindi's guests become clients and collaborators.
Podcasters support each other. Join a network like Podcast Guests or Facebook groups for podcasters to both find guests and speaking opportunities.
Taking Control of Your Message
The content you're permitted to share may be limited by the platform. Bindi's clients who've talked about controversial topics have had their content removed or found themselves banned by Facebook and YouTube.
Bindi urges us to consider ways in which we can take back control of our content. This desire for autonomy is driving many heart-centered coaches to pursue alternatives to Facebook groups and alternatives to social media marketing.
At the Ethical Change Agency, Bindi is creating her own TV channel. She'll be in complete control of content, distribution, and can monetize it without third party interference.
Your website can act as your own distribution channel. You might host your own private community, broadcast video and audio content, and syndicate through networks beyond social media.
Even if you choose to use social media or other third party platforms, it's a good idea to build your own business ecosystem outside them. Bindi encourages entrepreneurs to create their own website, not simply a Facebook page, because of the control it gives you over your brand and presence.
The Power of a Mission-Based Message
No matter which channel you choose, Bindi emphasizes the importance of human connection. Tell a story or share an experience. Infuse your authentic purpose and mission into your message across all platforms to engage and connect, rather than simply promoting.
A podcast is a powerful medium for attracting clients, partners and a thriving community, but you must have a strong and clear mission in place first. Bindi takes her clients through a "Message to Mission" exercise before creating their podcast to get to the core of who they are and what they want. They craft a mission statement they can own which gives them a focus from which they can accomplish anything.
Look at all the things you do and determine which of them you love. Double down on what lights you up, and go deep with it for a strong, mission-centric message and brand.
"When you're on purpose, in flow and delivering what you love to your clients, you'll attract just what you need." – Bindi Heit
A Social Media Education
Before engaging in any social media platform for your business, it's important to understand your objective. What is it that you're trying to achieve?
Bindi explains that each platform has its own strengths and is well-suited for certain niches, but not others. Instagram is great for sharing stories and visual experiences. Twitter is like a microblog, aligned for entrepreneurs who give news flashes.
Just because you know how to use a social media platform, Bindi asserts, this doesn't mean you know how to use it well for your business. First, social media is for being social, not for selling. "If you want to market, pay for it," she says.
Effective social media requires planning and strategy with attention to the user experience, something Bindi learned from her days in website design. Put yourself in your customers' shoes and think about where you're taking them, step by step, to be sure it makes sense. Is it clear what you do and what you want them to do next?
"There is this ethical evolution happening where we are coming together, supporting instead of competing, and creating change." – Bindi Heit, Ethical Change Agency
Meet Bindi Heit, Business Coach Meets Producer
Bindi Heit taps into her decades of demonstrated experience in elevating iconic brands through digital communications, broadcasting mediums of radio, podcast and TV, along with dedicated coaching and mentoring.
Bindi has been on her own healing journey in recent years, finding her self-acceptance and overcoming adversity to inspire others to also be the light that emerges from the darkness.
As CEO & Founder of Ethical Change Agency, Bindi works with ethical business owners, change makers and holistic healers to create collective change and make the world a better place through the power of human connection and purpose.
Connect with Bindi:
Website www.ethicalchangeagency.com
Podcast www.theethicalevolutionpodcast.com
Instagram www.instagram.com/ethicalchangeagency 

LinkedIn https://www.linkedin.com/company/ethical-change-agency

Facebook https://www.facebook.com/ethicalchangeagency