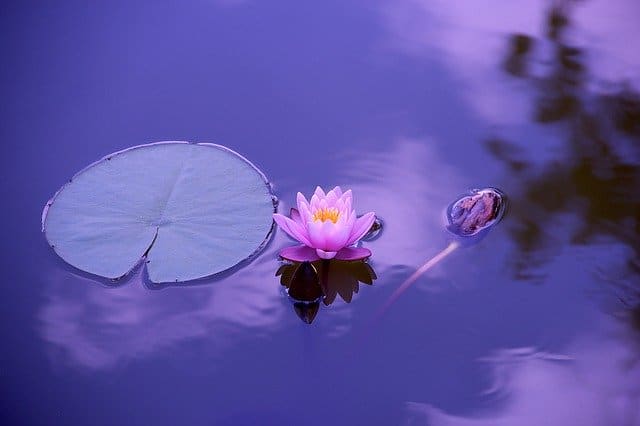 There's so much noise in the online world of coaches and entrepreneurs clamoring for attention.

How do you stand out without being pushy or inauthentic?

When Marnix Pauwels landed in my Facebook feed, I was immediately smitten by the simple, bold message in his posts. And when I read his article on "How to Make a Name For Yourself," I knew I wanted him to be a part of my (Un)Market Your Message series.

This conversation was irreverent (come prepared for numerous, authentic f-bombs!) and inspired, practical and magical — my favorite combo.

The Magic of Your Message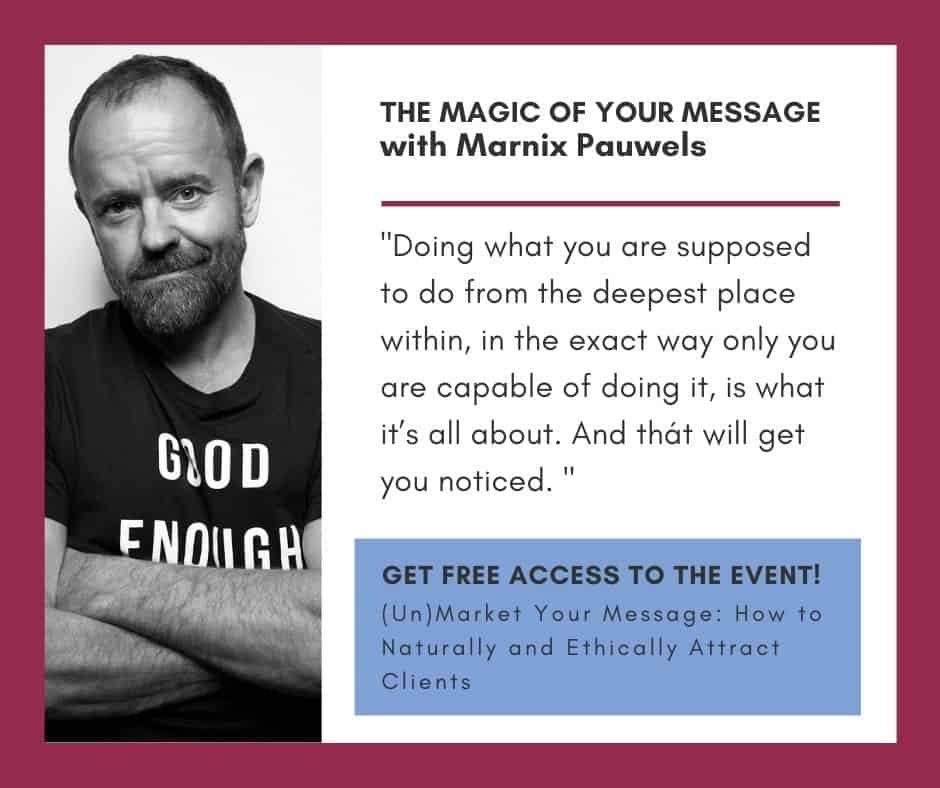 A free-form, interactive conversation about:


The unexpected magic of a message that comes from the place of "I don't know?"


After 30 years in advertising selling the message, "You need this to be happy," how Marnix switched to, "You don't need anything to be happy."


Where your message comes from when you connect to the universe and let it move through you


Dealing with fears of being vulnerable and seen
(If you missed it, you can get free access to the "Magic of Your Message" replay along with the upcoming presentations in the (Un)Market Your Message series.)
Here are a few of the takeaways and insights inspired by this conversation…

Creating Message Magic Without Method

If there are no methods, no steps and no tricks to "getting your name out there," despite what the marketing experts would have us believe, what's left?

Authenticity comes from within, and it can't be taught in writing or marketing. It can only be practiced, as you follow what's alive for you.

While there are undoubtedly formulas and strategies you can learn from and implement, nothing trumps aliveness when it comes to a magnetic message and client attraction.

Marnix doesn't sugarcoat his experience. He spent decades in advertising and copywriting, honing his craft, and yet there's something more important than skill when it comes to being an effective writer:

WRITE.

Lots of writing. This is the only way to tap your own sweet, authentic voice and learn to express as only you can.

When you write or create content from a place of desperation, it's not only dissatisfying, potential clients can smell it. Instead, share from your own inspiration what's interesting to you, even when it doesn't conform to the best practices of marketing. It will take you on an adventure into the expression of your voice.

You'll know you're being real because you'll feel it, and others will, too.

Channel your authentic experience and feelings as fuel for your writing. Marnix described feeling low one day and writing five blog posts in an hour, and writing the mood right out of him.

Share with intention, but without attachment. What would you love to create, even if doesn't earn likes and shares?

When the act of creation becomes its own reward, the right people will be drawn to it. Eventually.

While there is no secret formula for an authentic and effective marketing message, the good news is that you don't have to go far to tap the source: your authentic being.
Be sure to catch the replay of Marnix's presentation when you register for the (Un)Market Your Message series here. 

Meet Marnix, Coach & Writer

Marnix had a successful career as a copywriter in advertising for over 30 years. He wrote 8 books, appeared on national TV, radio, newspapers, magazines and podcasts, wrote numerous blogs and made inspirational videos. He has more than 30,000 followers on Twitter, did a TEDx-talk, and coached over a thousand people.

Despite all this, he did booze, drugs and cigarettes. He suffered through years of depression, anxiety, self-pity and anger to the point of contemplating suicide.

Now he's a transformative coach and writer. For over six years now, he's been more free and happy and creative and loving than ever before, without "positive thinking" or constantly working to improve himself. It's effortless, relaxed and natural, and he'd love to show you how it's done.

Connect with Marnix

Website: https://www.marnix.nl/homepage/welkom/english/