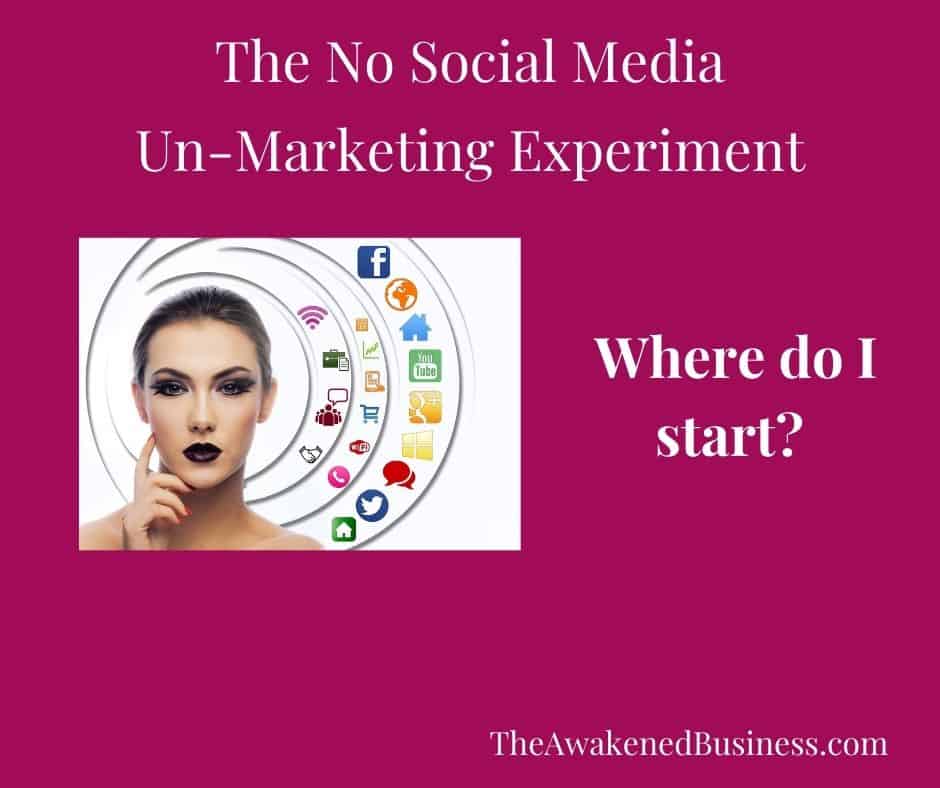 The No Social Media Un-Marketing Experiment has begun!

I'm exploring how to grow my business without social media platforms including:

Alternative platforms, websites and strategies to reach clients online without concern over ethics and privacy


Interviews with coaches and experts about what they're doing to create clients without social media


How to transition your business, community and audience away from social media with ease


Where and how to facilitate a vibrant community of your own


What you need to have in place, personally and professionally, before weaning yourself away from these platforms
I'm sharing my thought process and progress in case you'd like to follow along, or perhaps join in the adventure.

As I stare up at the mountain I'm about to climb, I ask myself:

"Where do I start?"

I have lots of ideas and information-gathering conversations scheduled, but what needs to happen first?

Before investing my time and energy into alternative activities, I need a clear and potent offer proven to attract my soulmate clients.

Otherwise, I can't accurately measure whether new platforms, mediums and strategies are working.

I mention this because so many entrepreneurs spend hours every week creating and sharing content that doesn't get results because their offer doesn't attract client leads.

While it's brilliant to experiment with content and offers, I'd like to have an offer that's both joyful and client-attracting before making the leap off social media. I'm also transitioning into newly aligned offers right now, so this feels right.

Jumping to a new platform without crafting a powerful offer first isn't going to be effective.

(If you're interested in what makes an offer effective, check out some of my recent posts about transformational content like this one.)

Next up, I'm considering what seems like the most FUN.

Medium has been on my list for over a year — I've done some research already — and it suits my strength in creating written content.

Being a guest on other people's podcasts is also fun and easy for me.

Now, even if my message gets in front of my soulmate clients through both of these mediums, my efforts will only be effective with an offer that's compelling enough to get inquiries.

While my current call to action invites people to contact me via FB Messenger, allowing an easy, on-platform response, Medium and podcasts likely won't provide such direct contact.

So again, the compelling offer comes first.

Luckily, I know how to make that happen. 🙂

A quick note:

Learning about something and then sharing my journey is one of my favorite ways to accelerate my learning and create valuable content. Research is much more fun when you get to see me be the guinea pig.

And now, over to you…

What questions do you have about growing your business without social media?

What do you think I should investigate?

Please let me know in the comments and I'll do my best to incorporate them in my experiment, then share what I learn. We're in this together!

Yours in creative play,

Steph

P.S. If you'd like to get weekly updates on my No Social Media Un-Marketing Experiment, you can join my email list.